Welcome Message
We are very delighted to invite you all to the "4th International Conference and Expo on Surgery and Transplantation" which is going to be held on 22-July-2019 to 23-July-2019 in Brussels, Belgium which includes various people presenting their research in the form of brief keynote speech, speaker talks, Workshops, Symposia, Speaker sessions and Exhibition covering a range of topics and important issues which may be helpful for us all from the research to the practical implementations.
This international conference will be act as a platform for Surgery and Transplant Specialists, healthcare professionals, clinicians, researchers, academicians, statisticians, business professionals, foundation leaders, direct service providers, policymakers, advocates and others related to this topic to discuss and exchange their valuable views on recent Surgery and Transplantation related concepts, encouraging various methods in the study of large disease burden and highlighting existing opportunities in the field of surgery and transplantation such as Pediatric surgery, Cardiac surgery, Neurosurgery, ENT surgery, Plastic surgery, Microsurgery, Laparoscopic surgery and many more.
Abstract Submission & Important Dates
Abstract Submission Guidelines:
· The length of the abstract must not exceed 300 words.

· The title should be in Sentence case.

· Should write name of the author and co-authors (if any).

· You must provide your full name, affiliation (degree, institution/company/University name, address, contact number and email address).

· Short biography of the author(limited to 100 words).

· They must be submitted before the deadlines.

· All the abstracts will be reviewed by the committee and you will get a email within 24-48 hours after submission of your abstract.

· All the accepted abstracts will be published in the conference proceeding books.
Abstract Submission Link: http://surgerycongress.alliedacademies.com/abstract-submission
Important Dates:
| | |
| --- | --- |
| Conference Dates : | July 22-23, 2019 |
| Abstract Submission ends: | June 10, 2019 |
| Early bird Registration ends: | December 31, 2019 |
Registration Link: http://surgerycongress.alliedacademies.com/registration




Benefits of attending our conference:
· Keynote and Plenary Sessions
· Symposiums/ Business Exhibitions
· CPD Credits by CPD Standards Office, UK.
· Will be felicitated with IOCM Certificate.
· Handbook & Conference Kit.
· The abstract will be published in conference proceeding books.
· Abstracts will be published with DOI number by Cross Ref.
Who can attend:
Doctors

Surgeons

Anesthesiologists

Medical Professionals

Residents

Fellowship holders

Medical Students

Nurses

Surgical tool technicians

Pharmaceutical Industries

Healthcare Industries
Market analysis
Market Analysis of Surgery and Transplantation

Modernization and changes in the lifestyle have prompted the pervasiveness of various types of disorders like cardiovascular issues, neural disorders, tumor and many more. The reason might be hereditary, acute or chronic, however, in extraordinary conditions; surgical help gives an open door for offering the person a new and better life. Subsequently, there is a need for the unbeatable evolution in the field of surgery to treat the affected victims.

The rise in surgery cases, together with the advancement in sophisticated techniques of new treatment etiquette, has made interest for more automated products. Automation relies upon incorporation of a few devices into clinically useful frameworks. Coordinated frameworks help to make medications quick and practical.

According to the European Union statistics, the most prevalent surgery called cataract surgery is performed 4.2 million times in the European member countries whereas in Cyprus it is found to be only 300 times per 100,000 inhabitants. The recent trends in the field of surgery were found to be the cosmetic surgery with the greatest growth in the last ten years. It has found to gain great importance from both developed and under developed countries.

The most common five cosmetic surgeries among the women are mentioned in the bar chart below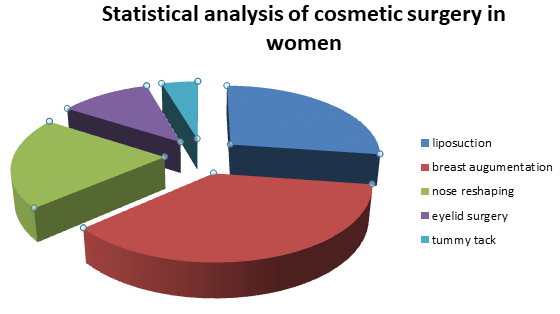 The global surgical procedures volume market is categorized by the presence of a number of enterprises, competing to achieve a powerful market position and revenue. The industry is projected to showcase incredible growth and revenue potential, on account of the rising technological advances in healthcare, disposable incomes, and demand of minimum suffering during medical treatments, finds Transparency Market Research. Many companies such as Allergan PLC, Cutera Inc, Lumenis Ltd and Cynosure Inc. currently hold string position in the market by expanding their footprint through networking with healthcare organizations, and invest in the research and development of medical technology. It is predictable that the worldwide surgery market will reach a volume of approximately 2.2 bn procedures by 2023. It stood at about 1.3 bn in 2014 and is expected to exhibit a steady CAGR throughout the duration period of 2015 to 2023. The gynecological surgery section is predicted to grasp a dominant market share by volume, on account of better and more precise prognosis and treatment of disorders and the surging in the spending capacity of individuals on better healthcare.The eventual fate of surgical strategies lies in the headway of technological innovations in the medical field. Directly exploited for gynecological methodology and gall bladder expulsion, single-entry point laparoscopic surgery is exceptionally progressed in the field of surgery.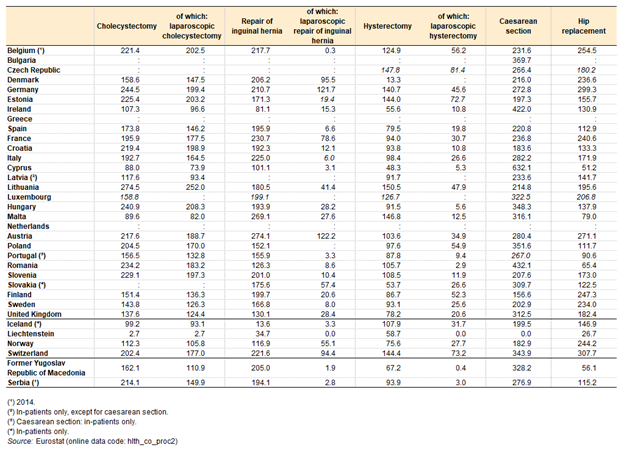 Recent statistics show that there are about 290 associations related to surgery in European countries, nearly 60 in the united kingdom.
Medical Robotics and Computer Assisted Surgery Market Overview:
The Medical Robotics and Computer Assisted Surgery Market is anticipated to gain a growth of $20.5 billion by 2022. Medical Robotics is a technologically advanced surgical, rehabilitation, and assistive solution used mainly during complex surgical procedures, physical complications, and hospital automation, respectively.
According to a new report by Grand View Research Inc. worldwide transplantation market is expected to reach $ 51.0 billion by the year 2025, growing at a CAGR of 9.1%. Increasing cases of organ failure has resulted in massive growth in the transplantation market. Rising demand for various transplant products such as tissue products, immunosuppressants, and organ preservation solutions is a major factor anticipated to boost growth of the market.Thus, many biotechnology and medical device companies have begun to concentrate on the development of advanced technologies and transplant products for management of organ failure.
In addition, introduction of advanced tissue products like DeNovo NT Graft, Chondrofix Osteochondral Allograft, and DuraMatrix Collagen Dura Substitute Membrane provides higher benefits during treatment. Computerized automated support systems with advanced systems and software allow easy & effective maintenance of tissues.
More than 60 million people in USA and one in 10 American adults requires one or the other type of transplantation. The global market for organ and tissue transplantation products and devices has already reached $55.6 billion in 2014. This market is estimated to grow at a Compound Annual Growth Rate (CAGR) of 6.8% to reach $62.9 billion by 2015 and $88.1 billion by 2020. $16,000 (in millions) is allotted towards the research in diverse transplantation areas. More than 500 societies, associations and a large number of companies which basically deals with diagnostic kits and medical devices are associated with this field; they have generated an average revenue of $294.2 billion in the world market.
The Belgian Transplantation Society (BTS) was created in 1993 as the scientific organization dealing with organ transplantation in Belgium. In 2016, a total of 1044 transplantations were performed in 8 Belgian transplant centers. There are 7 centers with an active program of cardiac transplantation, 4 with lung, 7 with kidney and/or pancreas, 6 with liver, and 2 with intestine transplantation. In 2011 one face transplant has been performed at a university hospital in Ghent. The large majority of solid organ transplantations performed in Belgium are Deceased Donation (DD) transplants . Thanks to one of the world's highest DD rates (between 24 and 30 deceased donors per million inhabitants from 2006 to 2015, 28.4 in 2016).Over the past 10 years, the percentage of controlled Donations after Circulatory Death (DCD) to the DD pool has substantially increased to reach 29% in 2016 .

The global stem cell therapy market is segmented into allogeneic and autologous stem cell therapy. In addition, based on the therapeutic applications, the global stem cell therapy market is divided into eye diseases, metabolic diseases, GIT diseases, musculoskeletal disorders, immune system diseases, CNS diseases, CVS diseases, wounds and injuries, and others. The market is estimated to grow at a CAGR of 39.5% from 2015 to 2020, to reach $330million by 2020.
Bone Marrow Transplantation has a $1.3 billion per year market in the US based on 2007 data. Over the period from 2004 – 2007 (most recent available data), in the US, it was the hospital procedure with fastest growing number of hospital stays (51.3% growth, 15,100 hospital stays in 2007) and aggregate cost growth (84.9% growth, $1.3 BN in 2007).
Analysis included 8029 heart transplant recipients aged ?18 years and transplanted between January 1, 2001 and December 31, 2006. Heart failure consumes about 2.5% of the heath care budget.
Over the past 25 years, lung transplantation has become a viable treatment option for patients with a variety of end-stage lung diseases. In 2007 more than 1,400 lung transplants occurred in the United States. Another 2,000 Americans remain on lung transplantation waiting lists, while 90 more are waiting for transplantation of both a heart and lung.
There are currently about 123,193 people waiting for lifesaving organ transplants in the U.S. Of these, 101,662 are waiting for kidney transplants. The median wait time for an individual's kidney transplantation is 3.6 years and can vary depending on health, compatibility and availability of organs. 17,105 kidney transplants took place in the US in 2014.
A total of 29000 whole pancreas transplantations and 1500 islet transplantations have been performed worldwide until today.
Every year, more than 1,500 people die waiting for a donated liver to become available. The number of centers increased from 59 to 116 and the number of liver transplants performed in the US more than doubled from 1,713 to 4,487; the waiting list grows every year.
The international market for blood products was valued at $ 23.5 billion in 2012. Latest Research expects the market to reach more than $28.8 billion by 2017 and register a five-year compound annual growth rate (CAGR) of 4.1% for the period 2012 to 2017. Various forces driving this industry are the cost of collection and processing, technological advances, an aging population, demand for plasma-derived therapeutics, and the changes in the incidence of diseases and surgical procedures and catastrophes requiring blood transfusions.
Eye transplants are performed routinely. In fact, of all tissue transplants, the most successful is a corneal transplant. More than 40,000 cornea transplants are performed in the United States each year.
Associations Related to surgery:
· British Association of Oral and Maxillofacial Surgeons
· Association of Upper Gastrointestinal Surgery
· British Association of Aesthetic Plastic Surgeons
· British Association of Endocrine & Thyroid Surgeons
· British Association of Plastic, Reconstructive and Aesthetic Surgeons
· Association of Coloproctology of Great Britain and Ireland
· British Association of Surgical Oncology - the Association for Cancer Surgery